Hi, guys! Hope you are all doing great.
It's a sunny day here in Port Harcourt Nigeria. I did my routine today as usual. First, I woke up very strong and set out to do what I needed to do. Let me list it before giving you details:
 Making breakfast
 Preparation for work
 Taking the next available bike
 Arrival to office
 Documents review
Making Breakfast
My wife is pregnant, as such I don't like stressing her. She does the main cooking like soup, fried rice, stew and other things, while I do the warming in the morning. We have soup and stew in the fridge, she cooks in bulk quantities and keep in the fridge. Usually, we can eat stuffs in the fridge for a month without a fresh cooking. That way, she is relieved of much stress because she just needs to cook once. So, every morning, we agree in bed on what to eat that morning and what I would take to work. For today we took bitter leaf soup in the morning, while I took indomie and egg to work. I did the warming of the soup, while my wife prepared the indomie noodles.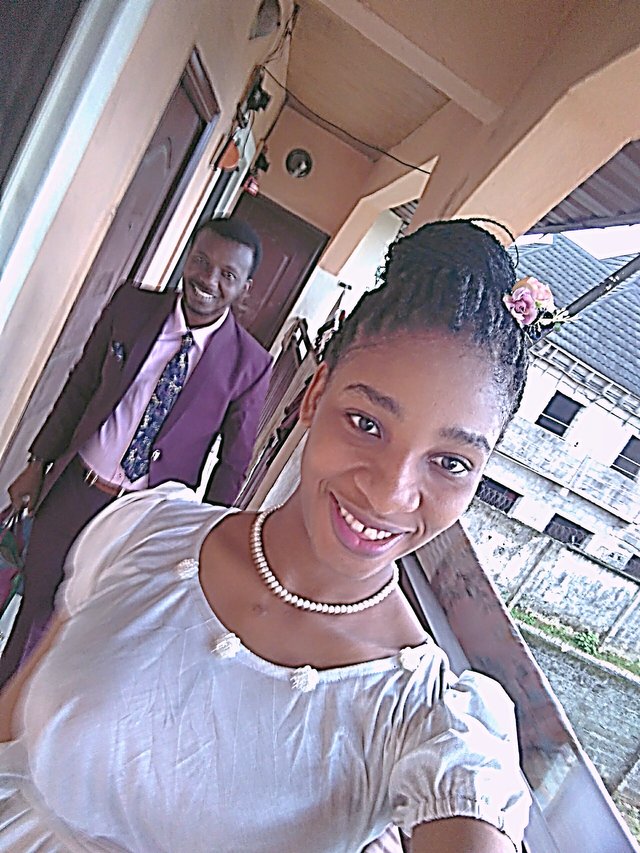 me and my wife
Preparation for work
I had to quickly press my clothes; I was already running late. While I was packing my bag, like putting my PC, my reading glasses, my hand sanitizer, my measuring tape and few documents, by then my wife had packaged the food I took to work and I included it as the last item. For the purpose of this game, I asked her to take some pictures of me. She's an amateur photographer, so don't expect the pictures to be too fine. It's funny how I had to persuade her to come outside to snap these pictures because she said I like pictures too much. I had to take time to explain what I'm using the pictures for.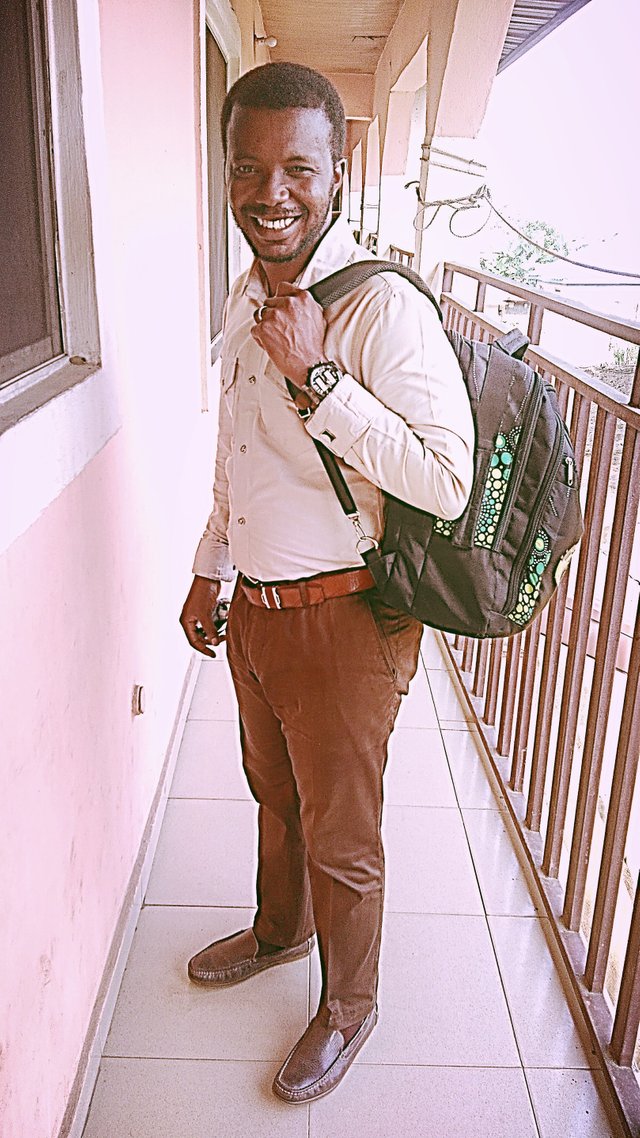 Stepping out
Taking the next available bike
I don't have a car yet, so I take commercial motorbike to work on daily basis. I live in Oyigbo, the outskirt of Port Harcourt. Here commercial vehicles are not common. Thus, it's not uncommon to see commercial motorbikes in numbers looking for commuters to covey with a fee. For me, my office is close by, about five minutes on bike. So, immediately I come out from my compound I would wave the next available one. The man would ask 'where?' and I would say 'Stanbic bank'. My office is just beside the bank. I work in a construction company. In the office premises, there are about seven companies, thus there's no sign post. Each person knows their company, so when we come, we just walk in to our offices.
Guess what I observed on my way to work today, let me gist you
You know, because of the pandemic, government had said everyone should wear their nose mask. I observed that everyone who cared to even come out with theirs wore it on their chins. It's funny how people would wear nose mask on chin, without covering neither nose nor mouth for which it was made for. Here, there's no monitoring team for complying with rules. I even overheard some people saying that COVID-19 does not exist. It's really scary to live close to people like these. Even the bike man that carried me this morning did not wear any nose mask, not even on his chin like others. Immediately I noticed that, I carefully covered mine very well.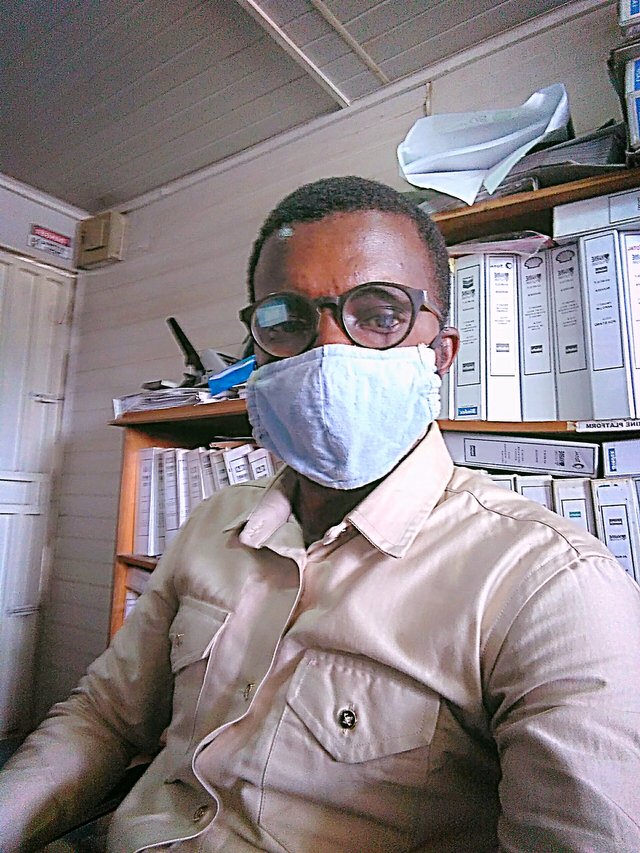 me protecting myself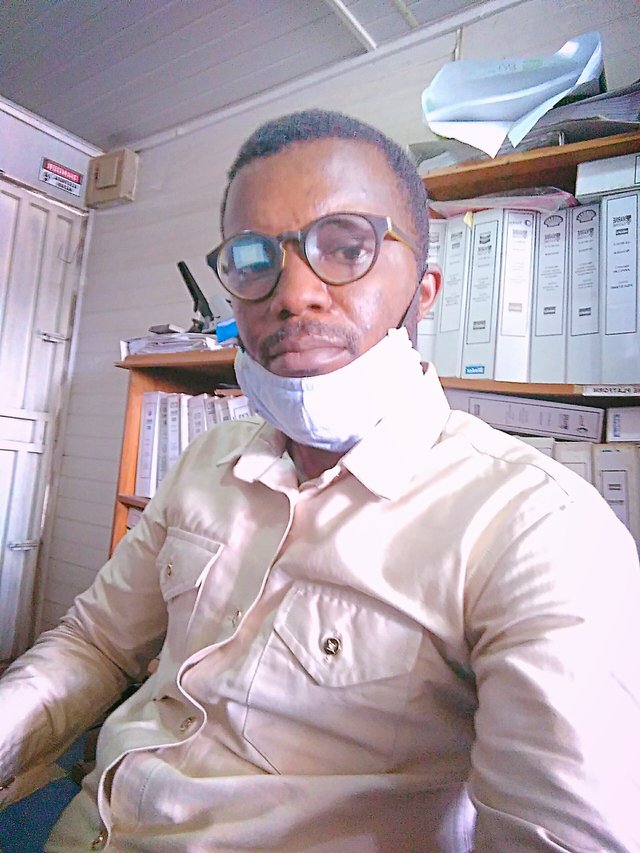 the way people wore their nose mask on my way to work today
Arrival to office
I got to office today by 8:48 a.m. Normally, I am supposed to resume by 8:00 a.m Nigerian time, but I went a bit late today mainly because there's no running project in the company. The lockdown as a result of the pandemic has halted a lot of activities in the oil and gas sector, thus no jobs for now. All we do now is tender and bidding for the next available jobs. As a welding inspector, I'm not really busy this period, apart from reviewing some documents so I can forward to the document control officer for completion of the tender.
Documents review
For the documents, mainly what I did was to sort out reports from previous jobs. The reports have clients' signatures on it as proof that we have done similar jobs in the past. Since the sector is competitive, we usually need a lot of evidences from previous jobs to back up our tender documents.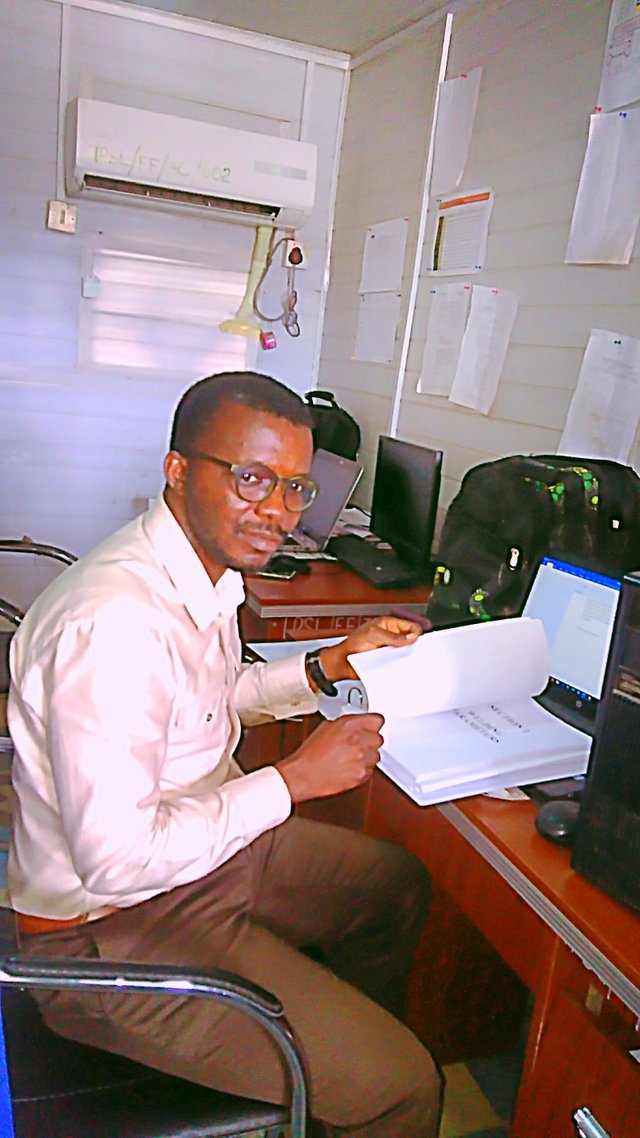 me reviewing some documents from previous jobs
Discussion during break
Our break time is 12:00 noon, Nigerian time. My brother came with his fiancée. After greeting them I just entered engineering office to talk to the IT guy/Planner, Imekan. Imekan is my childhood friend. We went to same high school, same college and ended up working together. As I entered, he said I have arranged a wife for my brother without arranging for him, funny, right. That's what attracted everyone's attention in the office. The sight engineer, Joseph intervened for me, 'Imekan you are not serious' he said. Uduak, the store guy asked what happened to Utibe, the girl he brought to show people in the office, introducing her as his fiancée. I was surprised by the name because though Imekan told me about a girl some months ago, I never knew people in the office knew about it to the point of knowing the lady's name. To attack him more, I asked about Abasiama, my architect female friend he started talking to recently. I pleaded with him to be careful not to give my lady friend false hope.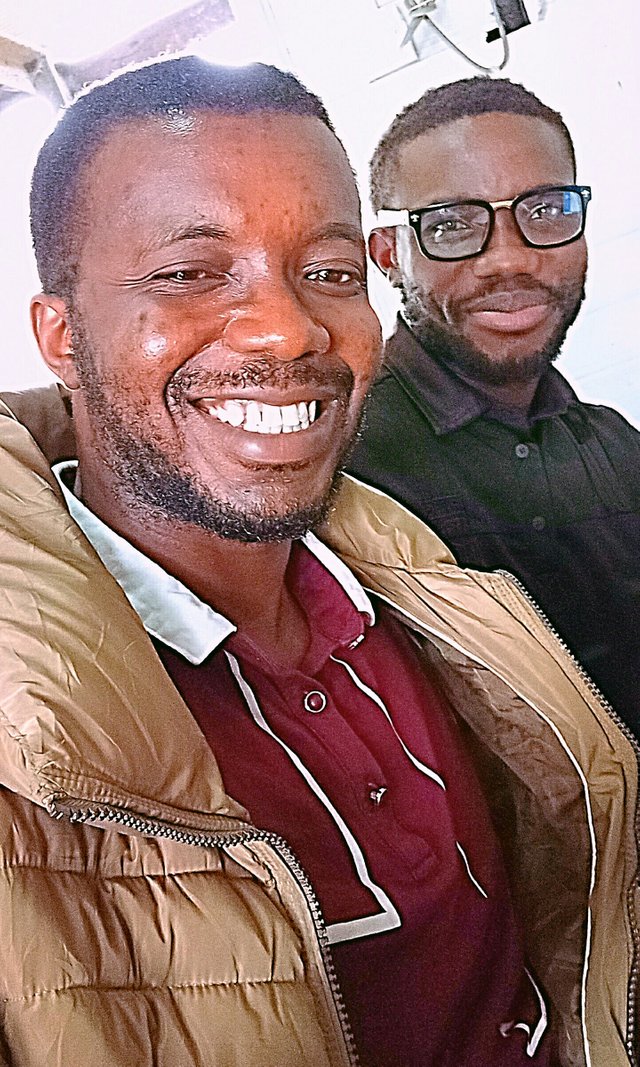 me(left) and Imekan(right)
The discussion heated up when the DCC(document controller), madam Elsie asked him what is stopping him from getting married. Guess his response, he said he need plenty money and a car before getting married. I stepped in to tell him, with the present economic challenges, he might get old before then. Everyone laughed. Madam Elsie advised him to take example from me who got married without car. On cash, she advised him to start by going to see the lady's parents so he can be focused with only her. Every other person only concluded he keeps giving excuses because he's not ready to be committed to one woman.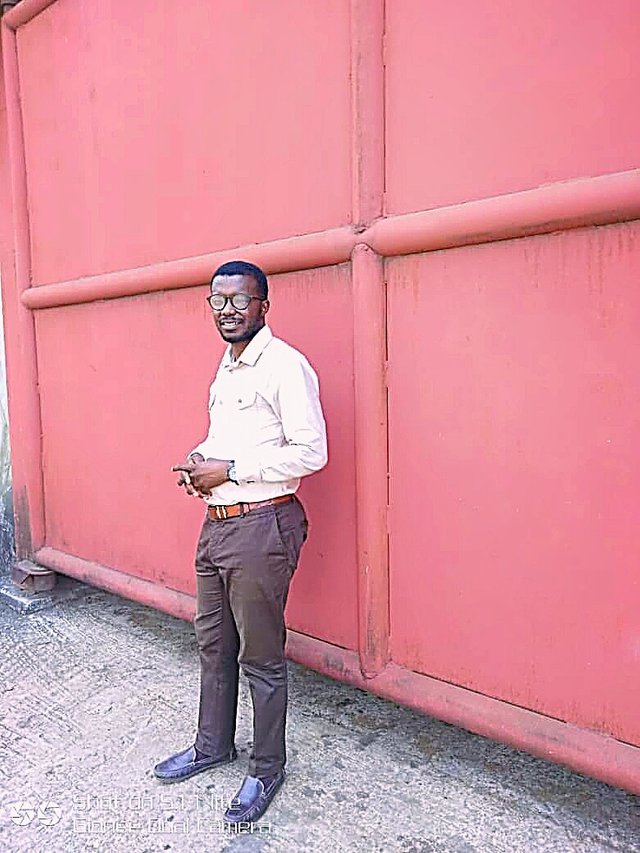 me in front of our workshop gate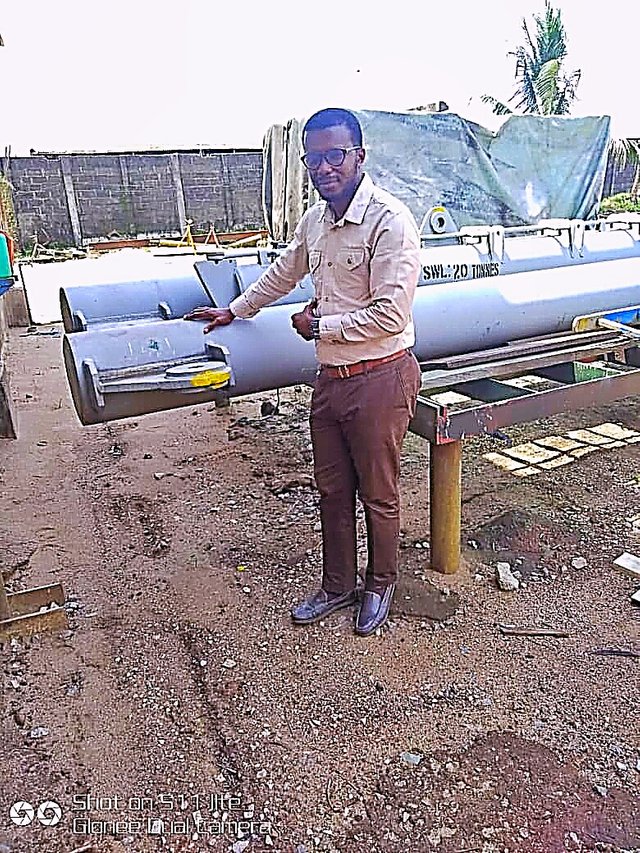 this is a spreader bar we fabricated before lockdown started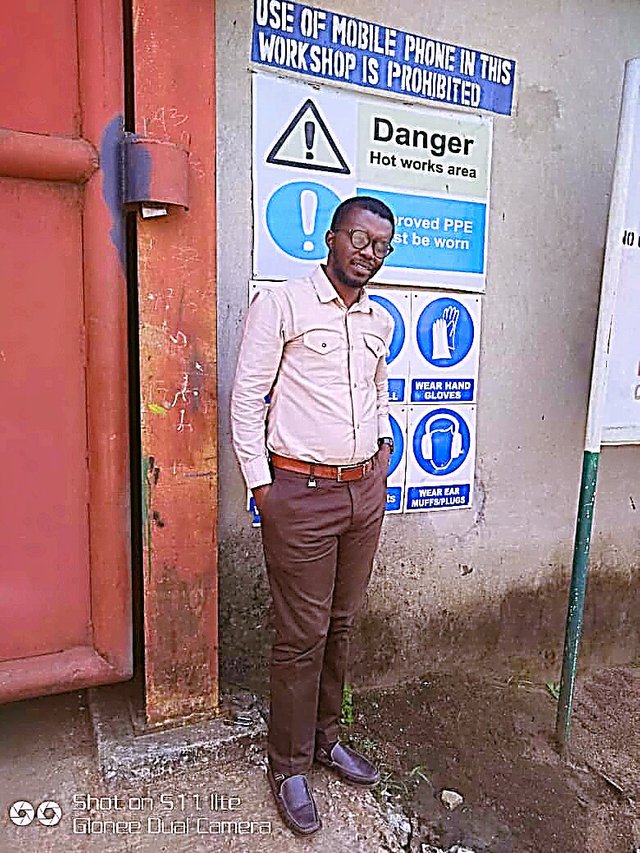 safety checking point before entering the workshop
I left smiling because that's how everyone used to attack me before I got married on February 15th, this year.
That was how exciting my day was.
One love from Oyigbo, Nigeria!